Recommended Stands To Visit at ECO Build 2014
Eco Build showcases a wide range of sustainable construction products for new builds, refurbishments, residential and commercial properties and industrial projects. Over 100 industry experts will be attending on March 4th– 6th 2014 at the Excel London, making it the world's leading event for sustainable design, construction and energy. The conference will feature a range of issues such as energy policy, the future of our homes and how to deliver zero carbon homes.  This year there are 3 brand new show sections including Sustainable Design & Construction, Energy and Connecting Future Cities, alongside the six content zones and two conference arenas. 
With hundreds of exhibitors to see at ECO Build 2014, we thought we'd give you an overview of our recommended must see companies!
Ensto– Stand S740
Ensto is an international cleantech company that specialises in the development, manufacture and marketing of electrical systems. The company also supplies electrical power as well as electrical applications. Ensto is committed to becoming the world's leading company in green energy efficiency and distribution. Although their products are manufactured in seven different countries, the company manages to leave a minimum carbon footprint.
Hueck- Stand S420
Eduard Hueck operates globally, producing and supplying aluminium profile systems for window, door and facade applications. The company has been established and respected internationally for almost 200 years. Hueck has an international reputation for major engineering projects, as well as smaller projects which showcase its wealth of experience.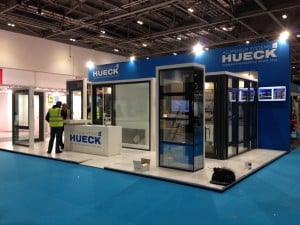 EnviroVent is the UK's leading manufacturer of low energy. The company designs, manufacturers, supplies and installs a wide range of mechanical ventilation systems. This includes extractor fans, positive input ventilation and heat recovery for both domestic and commercial appliances. EnviroVent is committed to design products that are not just energy efficient but also will last as long as the property. Their lifetime range has recyclable components, this eliminates the wasteful disposal of plastics and other materials that go to landfill, as well as being fitted with low energy motors.
Saint-Gobain provides solutions for all areas of the building environment, from construction of new housing estates to the renovation of existing homes. Their solutions, expertise and experience allow the company to deliver solutions for sustainable habitats. Saint-Gobain is constantly innovating to make homes more comfortable, cost efficient and sustainable worldwide. Their solutions range from self-cleaning windows to materials distribution.
Environmental Street Furniture will be launching a new product at Eco Build 2014 called ESF Street Charge; an outdoor solar powered mobile phone and tablet charging station. It is the first time the product will be released outside of the USA where it was to be very popular in New York parks last year. The free standing units can be displayed anywhere and are powered by the sun's rays, charging the internal batteries. The ESF Charge is worth a visit at this year's Eco Build 2014.
To find out more about Eco Build, visit http://www.ecobuild.co.uk/.
Back to List