Exhibit 3Sixty Logistics ships all 80+ vessels in and out for Boat Life Live, NEC
Exhibit 3Sixty Logistics has recorded its heaviest job to date and the first of the year, lifting the vessels in and out Boat Life Live, NEC, February 17-20, 2022, including yachts, houseboats, narrowboats, powerboats, and dozens of smaller RIBs, dinghies and pleasure boats.
"The roof is relatively low, for an exhibition hall," explained Matthew Williams, director of Exhibit 3Sixty Logistics, supervising the two telescoping mobile cranes lifting a 39-ton wide beam narrowboat into Hall 19 at The NEC, "and the cranes can't telescope out to the height they normally would to lift a load like this, so our logistics plan included using two of them at the same time to bring in the largest boats."

In addition to the two mobile telescopic cranes, Exhibit 3Sixty Logistics also hired in 6 forklifts, from 7t to 3t, to move more than 80 vessels in and out of the exhibition halls. The largest boats came in first, ahead of the build, with the cranes which needed the space to manoeuvre, and then the remainder were driven in on forklifts.
Andy Pearce, co-director of Exhibit 3Sixty, said, "What Matthew achieved at Boat Life Live made my hair stand on end, choreographing the installation of every boat needing it. Not every part of the exhibition was accessible to the cranes, but even that was no obstacle, and in one instance, Matthew had the boat in question lifted to a staging point, and then skated it into position. Amazing!"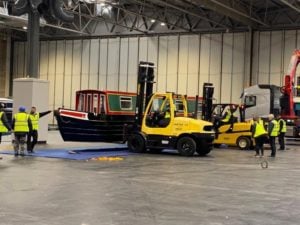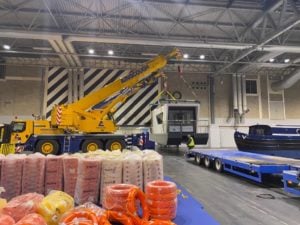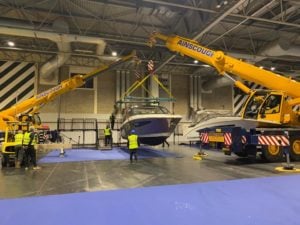 Back to List