Recommended Stands to Visit at ICE Totally Gaming 2014
ICE Totally Gaming 2014 is officially under way until the 6th of February. As the largest trade event in gaming, this exhibition represents a number of sectors including, betting, casino, lottery, mobile, online, social and street gaming. If you are part of any of these sectors, you will be sure to find a surplus of products to help drive your business forward into 2014.
With hundreds of new product launches, ICE is the annual launch pad for gaming innovation. Visit ICE to hear from gaming experts who can help you with solutions to your key challenges, build contacts to create new partnerships and listen to industry debates! If you're in the gaming industry, ICE is sure to be the highlight of your industry calendar.
exhibit3sixty have been busy at work producing stands for Fournier Playing Cards and Vodafone Malta, so make sure you head over to these stands if you are visiting ICE Totally Gaming this week.
Fournier Playing Cards- Stand S13-144
Founded in 1868, the Spanish company Fournier has become a worldwide supplier of playing cards. Each card design has been created by artists and experts in printing. Fournier are proud to say that a large majority of households in Spain now own a pack of Fournier playing cards and the company has a 35% share in the global market. Fournier offers quality, security and durability when supplying cards to it's customers, that's why their products can be found in the most important casinos with the most skilled card players.  Find out more about Fournier here.
Vodafone Malta- Stand N14-223
Vodafone Malta is exhibiting at ICE Totally Gaming 2014 to promote international connectivity and data centre services to Igaming operators in search to operate within Malta. Vodafone can provide a connection to mainland Europe where multi international carries route all traffic to anywhere around the world. Vodafone Malta currently services the majority of key business areas on the island and is constantly looking to expand their own fibre network foot print.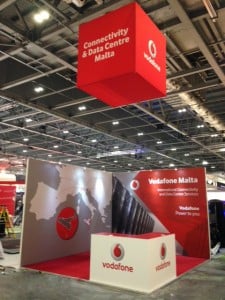 If you're in the gaming industry and  want to find new products to attract new customers, then ICE Totally Gaming is definitely worth a visit to set yourself up for the coming year.
You can find out more about ICE Totally Gaming 2014 here: http://www.icetotallygaming.com/
Back to List