Recommended Stands at the Spring Fair International 2014

With the Spring Fair opening this Sunday, exhibit3sixty have been busy at work producing stands for Innova Editions, Time Source, RAM Enterprise and Airpure, so make sure you head over to these stands if you are visiting the Spring Fair.
At the Spring Fair International traders are sure to discover a variety of exciting new products. Browse over 300,000 products from the 2nd to the 6th of February to stay on trend with the latest Spring/Summer must haves. With so many stalls to see, we've selected a few companies that have caught our eye and definitely deserve a visit.
Innova Editions- 5 E83
Innova Editions is a UK based company, founded in 1988. The company is divided into two divisions; Photo Line and Home Decor. The Photo Line division offers a range of products including  photo albums, photo frames and photo accessories. The other division, Home Decor, offers a range of mirrors, wall clocks, gift frames and bespoke picture frames catered to suit a variety of customer needs.
Timesource has been trading since 2004 and has quickly established itself as a leading watch and associated accessories supplier to a variety of customers. With the philosophy to be driven by design and quality, Time Source is constantly seeking to exceed their customers expectations in their product offerings and competitive prices. The company also offers the latest styles and high standards of quality in their ever evolving Henley, Ravel and Wingmaster ranges.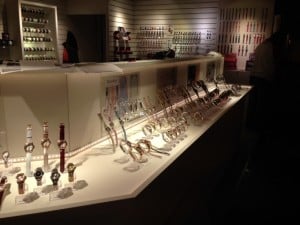 The brand Airpure was established in 2008 and has the mission to become a global household name. Focusing on contemporary and visionary products, the company has developed their own bespoke and unique range of fragrances at affordable prices. Airpure has a large customer base across the UK and worldwide where their products can be found in over 15,000 retail and wholesale outlets. Visit Airpure's stand at the Spring Fair to discover their products with smells of fresh flowers to Pine forests.
Established in 1982, RAM Enterprise is one of the UK's leading wholesaler and distributor of non-food consumables. With products including  batteries, smoking accessories, toiletries and medicines , the company's customer base consists of local retailers, market traders, van salesman and ebayers. RAM Enterprises also has a large portfolio of branded products, from Duracell batteries to Samsung. Visit RAM Enterprise at the Spring Fair and take a look at online stock here…http://www.ramenterprise.co.uk/
Kitchen Craft is a leading global supplier of Kitchenware, tableware and other products used in the home. Founded in 1850, the business was originally established as a manufacturer and wholesaler of household products and is still ran by the same descendants of the founder.
Kitchen Craft is definitely worth a visit at the Spring Fair. With products ranging from baking and sugar craft to international cooking, this stand is sure to make your mouth water.
As well as viewing the products Kitchen Craft has to offer, you can visit their website for some delicious recipes. Take a look at this Carrot & Cream Cheese Cupcake recipe.
Amscan UK – 3 R20-S21
Why not visit the one stop party shop, Amscan, at the Spring Fair? Amscan is an international leading designer, manufacturer and distributor of party products in the world. The company's innovative products includes balloons, fancy dress and face paint, all offered at competitive prices. Amscan distributes products all over the world, so no matter where you are based, you will receive your products on time.
Vendula London has been an online fashion retailer since 2003. With the mission "to make identikit accessories a thing of the past", Vendula's designers discover the latest colours, materials, shape trends and give their designs a quirky twist. The company offers a variety of products, including flip flops, Ipad holders, bags and purses. If you're looking to stand out amongst your competitors, Vendula London is the stand to visit at the Spring Fair.
If you want to find new products to attract new customers, then the Spring Fair is definitely worth a visit to set yourself up for the coming year.
You can find out more about the Spring Fair International here: http://www.springfair.com/
Back to List