Modular Trade Show Displays – What You Need To Know
DEFINITION:
An exhibition stand constructed of pre-formed sections that can be put together in variety of ways. Each module has a strong aluminium frame with foamex panels, graphics, shelves and other design options attached.
ARE MODULAR TRADE SHOW DISPLAYS REUSABLE?
Yes, one of the best things about a modular design is that it can be used at more than one trade show or exhibition. The flexibility of the design and lightweight materials makes it easy for modular units to be assembled and dismantled quickly and easily at every new event, so you can make the most of your advertising tool. All exhibition graphics can be used again or changed when desired to offer a different appearance or to convey a new brand or message. This makes modular exhibits the perfect solution for businesses that attend several trade show events throughout the year.
WHAT SIZE ARE MODULAR DISPLAY STANDS?
With a bespoke modular design you have the flexibility to customise any sized exhibition space, whether you're working with a small unit or need a large graphic back wall.  The versatility of modular stands is highly beneficial for first time exhibitors who might want to start small with their exhibition and build on their display as their business grows.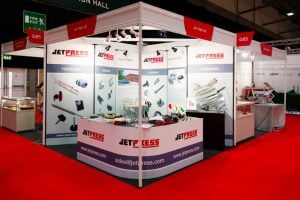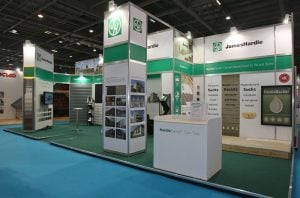 IS A REUSABLE MODULAR EXHIBITION A GOOD INVESTMENT?
Reusable exhibition displays are hugely popular as they do exactly what they are meant to do. In terms of versatility, portability and value for money, they are very effective. Modular trade show displays bring much more to an exhibition event than a simple Pop Up display but without the price tag of a traditional exhibition stand. With the help of our experienced and passionate in-house designers, your plain display system can be transformed into an engaging and customised visual tool that conveys your brand and maximises ROI. When you choose a modular design as an exhibitor, you're investing in an exhibition stand that brings quality and efficiency over and over again.
HOW MUCH DO THESE TYPES OF TRADE SHOW STANDS COST?
Modular stands are designed to reduce the costs of exhibiting, particularly in the long-term, however the final cost will vary depending on the design, size and additional exhibition services you require. Interactive elements and technology can be easily incorporated into the design to make it more engaging to potential customers, and we provide a range of exhibition furniture and flooring to complete the look and functionality of your exhibition. Here at Exhibit 3Sixty, we also provide transportation and storage services to look after your modular trade show display when you're not using it.
For a free and instant quote on a bespoke modular design, please fill out our simple 3-step form and a full estimate will be sent to you in minutes!
Back to List