Exhibitions are a brilliant platform to get your business seen and to promote your product or service to potential clients. The exhibition stand is at the heart of what makes an exhibition successful, so choosing the right type of display is important to set your brand apart from the competition. But how do you go about choosing the right exhibition stand for your business?
Here we detail the 3 main types of trade show stands that you could opt for and some of the key benefits that come with each design.
Bespoke Exhibition Stands
If you're looking to make a big impact at your event, then custom-built stands are the perfect choice. One of the main benefits of a bespoke display is that you have complete freedom in design so your exhibition stand can represent your brand exactly as you want it to. An innovative and creative design unique to you will stand out amongst competitors and commonly seen pop-up stands, so there's no way your stand is going to get missed! For larger companies with a bigger budget, custom exhibition stands allow you to generate excellent brand awareness when promoting a new product or service, and create a real buzz at your trade event.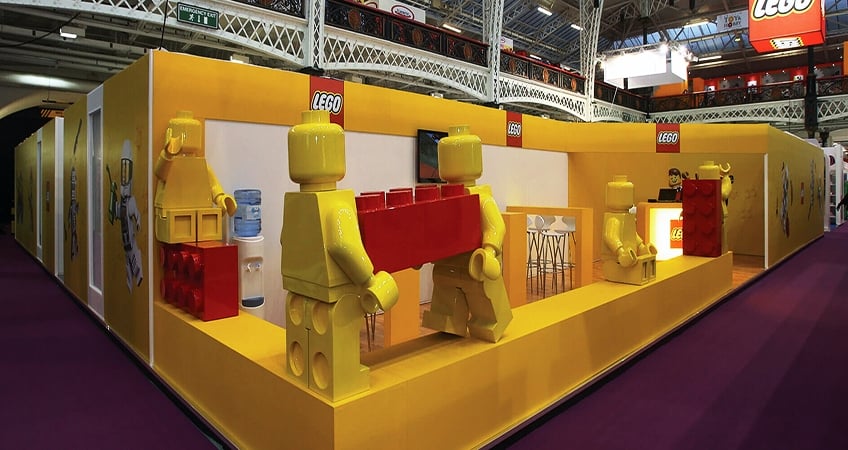 We designed, built & delivered this unique stand for Lego – it's eye-catching, interactive & right on brand!
Shell Schemes
Shell scheme exhibition stands are a reliable choice if you're working with a limited amount of space at an exhibition. Trade shows are notoriously crowded, so you need to make the most of the space that you are given. Shell schemes offer a ready made structure that can be easily constructed and tailored to your needs, whether that's a stall to promote a product line or to design a welcoming space to chat with your clients. Our display systems can be built for any sized venue and constructed with your branded graphics; seamless PVC graphics, individual panels or roll up banner stands. For companies on a tight budget, shell scheme packages are the perfect solution.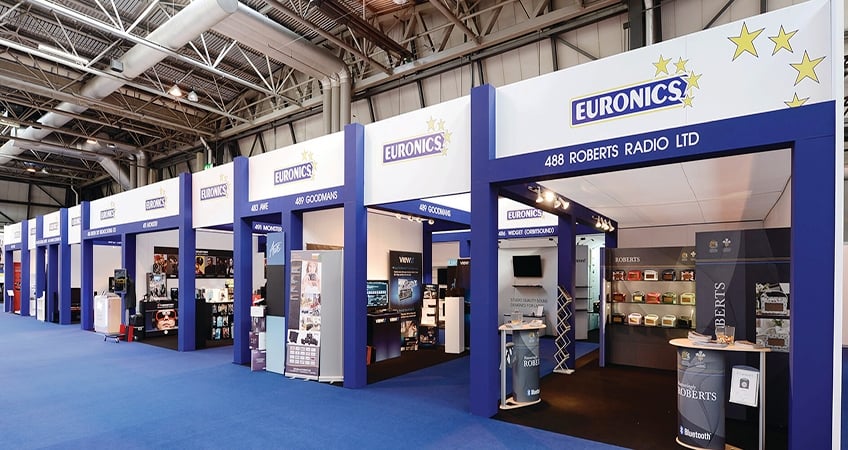 We made the most of the space on offer & maximised sales potential with a professional shell scheme package for Euronics.
Modular Displays
If you know you're going to be attending a lot of trade shows, modular exhibition stands are a smart choice. Modular displays provide a bespoke look with the flexibility of a portable stand, so you can customise your stand over and over again. High quality graphics can be added and changed as needed, and the versatile construction allows you to expand its size, or simply store it away. Modular displays are often favoured by niche companies as they can easily incorporate interactive elements and technology to create a more engaging exhibition.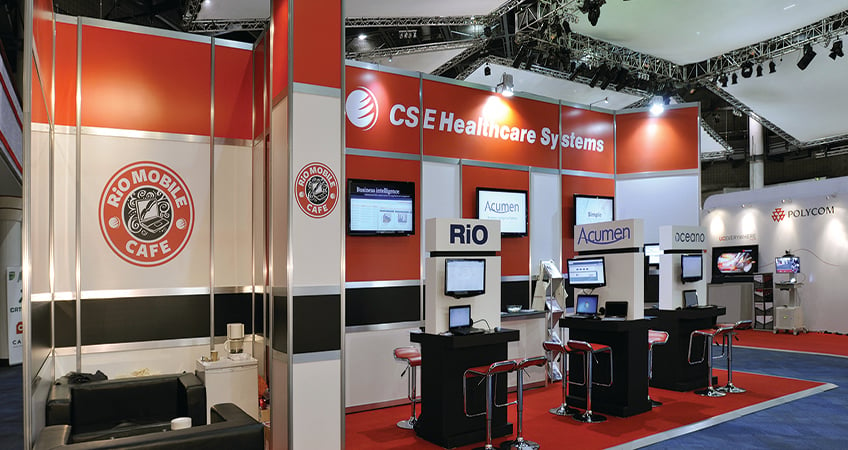 A modular display created a professional look for CSE Healthcare Systems whilst allowing them to install computers to show off their service.
If you've got a trade show coming up, speak to Exhibit 3Sixty today. We've got years of experience and dedication to help you make your exhibition a success. We offer a free design service with a 7-day turnaround!