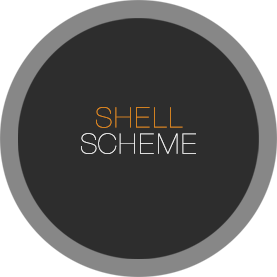 SHELL SCHEME STANDS 


TAILORED TO YOUR BRAND & COLOUR SCHEME

At Exhibit 3Sixty, we specialise in the supply and installation of high quality shell scheme exhibition stands of up to 2,500 square meters, inclusive of all usual peripheral services. Working with our in-house stand designers you'll be able to create a shell scheme stand that is tailored to your brand and that stands out from the competition. This is an ideal solution if you're planning your first exhibition, have a shell space or are working on a tight budget. Call our experienced contractors on 02476 473 663 to discuss your project or get a free online quote.
EXHIBITION SHELL SCHEME
DISPLAYS
Based on a modular system of graphic panels and poles, a shell scheme exhibition stand can be designed to suit any sized venue. This makes it an affordable solution for companies who are cost conscious or are working with a small space.  
At Exhibit 3Sixy, we are one of the only UK exhibition stand companies to offer a full shell scheme service package along with your own dedicated account manager. We take your initial brief and provide you with a 3D design of your display incorporating any shell scheme graphics provided by you. Once you're happy with your design our expert contractors will build your stand as per your specifications and deliver it to you on the day of the event or trade show. We'll then proceed to the set up your shell scheme stand and prior dismantlement so you can focus on your business and leave the entire event logistics to us. This whole process will be overseen by your account manager who will always be on had to answer any questions or resolve any problems along the way.

Customise your shell scheme stand with your choice of 1 to 3 open sides options a range of carpet colours and your choice of branding, seamless PVC graphics, individual panels and roll up banner stands. With the help of our experienced shell scheme contractors, you can transform your display system into something really special – conveying the message you want, targeted at the right audience.
Full technical details including measurements and graphic options and prices can be found on the buttons below. For more information please don't hesitate to get in touch with our friendly team today.
SHELL SCHEME
FAQs
What is a shell scheme stand?
Shell scheme systems are a box-style stand design, ideal to fit in limited spaces and a low budget alternative to traditional stands. These displays have become one of the most popular stand designs for exhibitors in the UK as they provide businesses with a blank canvas. Shell scheme stands include plain panel walls, aluminium poles and flooring that can be enhanced with a range of optional features. Learn more about shell scheme systems.
Can I change the colour of my carpet?
You can change the colour of you carpet but there will be an additional charge. Please contact one of the sales team for colour sample swatch of our range.
Can I hang a TV from my wall panel?
It's not possible to hang any heavy items such as TVs from the standard wall panels. Reinforced panels are required and can be ordered from the shell scheme extras form.
Can I apply graphics to my wall panels?
You can apply vinyl stickers, Velcro and double-sided tape to the wall panels. No permanent fixings such as hooks screws or nails are permitted. We offer various graphic solutions for shell scheme stands ranging from full colour seamless wraps, individual printed panels or simple pop ups.
What materials are the shell scheme wall panels made from and what sizes are they?
Shell scheme wall panels are made from light weight white 3mm Foamex. Please see the shell scheme spec sheet for size details. Alternatively, please contact us if you have any questions.
OUR LATEST

 SHELL SCHEME DESIGNS

From international companies such as Euronics and Akante to a range of renowned local brands such as Tesa UK, we've helped deliver many successful events and trade shows across the Midlands and London. Check out how our shell scheme stands helped them stand out from the competition on the images below. Visit our full exhibition shell scheme gallery.