What's been going on with Exhibit 3sixty?
As one of the most experienced exhibition stand contractors around – we've been busy!
Exhibition stand creation for Babystyle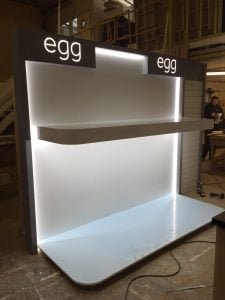 Recently we have been working on some wonderful shop displays for Babystyle. We've been chosen to construct stands for the extremely successful product, the new egg stroller.  It's really important to surround your product with a beautifully constructed stand at your event, and we've done just that. See our beautifully constructed stand here, we've installed these bespoke displays all around the country. They're so confident in our performance that we actually are launching some unique modular displays. Upon their specification, we've produced them to be able to be installed by Babystyle. We strive to always deliver on clients requirements, going above and beyond.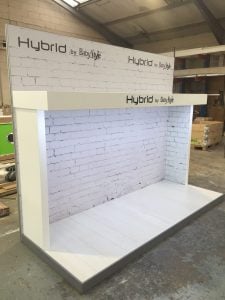 Exhibition design and execution at the HR Software Show
Next up, we're off to the HR Software Show in London on the 15th-16th of June. We not only provide the very best stands to exhibitors, we're hired by exhibitions to present their show in the very best way. We're building the entrance, two theatres and the cafe area including all furniture. There are some designs available below to show our conceptions of the finished product.
Exhibition stand furniture at ME North East 2016
Ever busy, we're then off to Newcastle for Manufacturing and Engineering North East, where we're actually the official contractor and exhibition stand designer for all services i.e carpets, shell scheme, lighting, electrics and furniture. It's an event around the industrial goings on in the north east, discussing the cutting edge engineering and manufacturing developments. As the north east is the UK's industrial powerhouse – it's a huge event.
Stand Design & Build Supplier Of The Year at AEO 2016
Coming up is also the AEO Excellence Awards 2016 show, where the very best in the events industry is represented. We were finalists at the 2013 show, and are looking to take first prize this year! It takes place on the 17th June, and features all the very best exhibitors around. We've been shortlisted for Stand Design & Build Supplier of the Year – one of the most hailed awards. It's being judged by some of the leading figures in the events industry, and will be a spectacular event.
If you're interested in the very best stand construction and design around Coventry, speak to our team of experts today!
Back to List