Exhibit 3Sixty Commissioned for Vaillant Exhibition Stand
Next month, Exhibit 3Sixty will be providing the exhibition stand for Vaillant at the Ecobuild event at the ExCeL in London. Valliant have "been setting the standards in the heating market", for over 135 years and are "leading the way in renewable technologies" to develop systems that "utilise sustainable sources of energy".
The exhibition stand was designed to be open and functional so that the Vaillant brand would be visible from all directions and feature a large front facing wall which would dominate over other stands. A large digital screen will be used to display interactive presentations and adverts to visitors to the stand. Incorporating interactivity between the stand and clients gets them to stop and really take notice of your exhibition stand and engage with your brand. As with any stand at an exhibition, there is a desired route for traffic to take through it. The route will take in all the key areas of the stand and finish at the rear where there is a seating area for staff to further engage with clients and discuss any business further.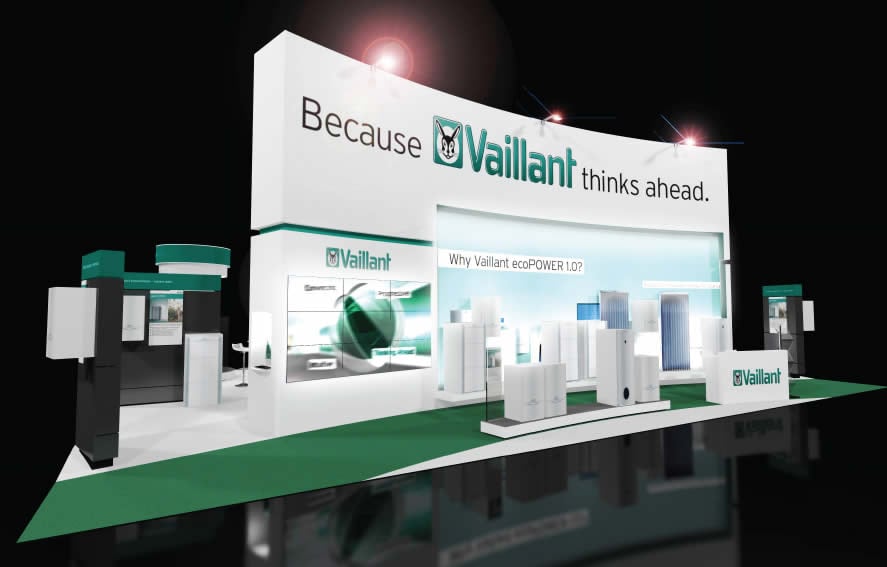 An important aspect of any exhibition stand is to capture your clients for any further potential business dealings. Having PC points where they can enter their details to receive further information is a good way of doing this. This stand will feature PC points on either side of the front wall so clients' details can be captured as they follow the route around the different areas. To finish off we have included exhibition graphics consisting of large illuminated logos above the meeting canopy to increase visibility of the Vaillant brand.
Exhibit3sixty were competing against nine other exhibition stand designers for the contract to create the stand for Vaillant and are thrilled to be supplying it for this event!
Ecobuild takes place from 20th-22nd March 2011
Back to List