Top 10 Tips for the Best Exhibition Stand Design
Tip 1

– Define your objectives

Before you can design your exhibition stand, you need to clearly define what your objectives are and your reason for exhibiting. This way you can ensure that your message is effectively communicated through your exhibition stand. Your objectives might be one of the following, all of which will require a different display design to make your stand as effective as possible:

Sales generation: Do you and your team want to achieve direct sales or enquiries at your exhibition and build current and new customer relationships?

Product launch: Do you want to raise awareness of a new product or service and set up demonstrations and interactive areas for visitors?

Market research: Are you after opinions or answers to a survey, or looking to test a competition or campaign?

Brand awareness: Does your business want to expand into a new market or increase brand recognition in a certain field?

Networking: Are you looking to expand your business network and make contact with industry professionals, investors or alternative suppliers and distributors?
Tip 2

– Focus on your target audience

Once you've defined your exhibition goals, you should consider who your target audience is. Consider what type of people will be attending the event and who your stand will be targeting. The exhibition design should be built with these people in mind and consider what will capture their attention amongst the many displays on offer and how to pique their interest.  
Tip 3

– Choose the right stand to utilise available space

Location of your stand in a venue is an important consideration when you're exhibiting, and it will determine how much space you have to work with. Allocated space could be restricted, so its important to fully utilise what's available with a custom built display. There are a different types of exhibition stands to choose from, including modular displays, shell scheme stands and large traditional builds. An experienced contractor like Exhibit 3Sixty can help you choose the best exhibition stand to meet your budget and requirements and offer you a free quote.
Tip 4

– Consider placement of your marketing message

Every exhibition stand design aims to get noticed amongst the crowd and a bespoke design offers you complete freedom to do exactly that. Large and impressive stands can be very effective for all types of events, but it's not always necessary. Smaller displays can make just as much of an impact when the placement of the marketing message is carefully considered. The key message, slogan or image at the heart of your promotional objective should be highly visible on your display. Text and images should be high up on your stand so that it is not blocked by visitors and can be seen from a distance. To achieve this, an exhibition stand design might add additional walls or a second floor for extra height, as shown in the examples below.  
Tip 5

– Don't go overboard with text

Too much text in your slogan or graphics can be difficult to read, and even put visitors off from reading it altogether. So you need to find the right balance with great visuals and textual information to ensure that you capture people's attention whilst getting your key message across. Factors such as font, size and the colour of your text are vital aspects of your stand design. Work with professional designers with a great eye for detail to ensure that even the smallest details of your design are making a difference.
Tip 6

– Keep your branding consistent

An exhibition stand is a unique part of a company's marketing strategy, so it is essential that the design at every tradeshow event is consistent with all other corporate branding. The logo, colours, strapline and literature used in your display should all accurately represent your brand image so that you are instantly recognisable. Brand new customers that you meet at an event are likely to follow up at a later date by viewing the company website, so there needs to be consistency in the way that your business is represented. The Exhibit 3Sixty team will happily work with existing marketing teams to ensure that we accurately build on your brand identity.
Tip 7

– Make your stand interactive

Fun gadgets, technology and video content are great tools for engaging visitors at your stand and conveying more technical information about your product or service in an appealing way. When visitors are engaged they're more likely to stay at your stand for longer and ask more questions about your services. Find out more about using event technology to encourage visitor interaction.
Tip 8

– Focus on your entrance

You only get one shot at a first impression so make it count! Innovative and branded entrances to your exhibition can entice passersby and deliver better user experience. Exhibition feature areas like seating and coffee lounges can also help to create a relaxing environment that visitors want to spend a lot of time in. So it's worth considering what added extras could be beneficial to your target audience.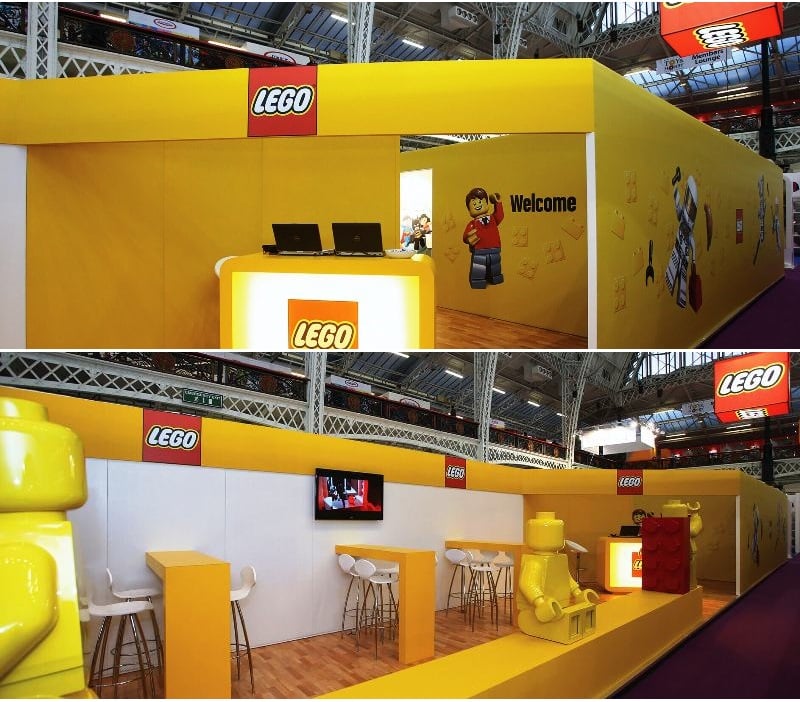 Tip 9

– Make the most of lighting

Display lighting is very effective at highlighting the best areas of your stand, particularly if you're showcasing a range of products. Spotlights, uplights and LED strips can impact the overall ambience of your exhibition and enhance the atmosphere that you need, whether that's bright and colourful or more neutral and relaxed. It might even be essential in a dimly lit venue, so this shouldn't be overlooked!
Tip 10 

– Choose the right show

An amazing exhibition stand design is no good if you're not exhibiting at the right industry events. With thousands to choose from in the UK and Europe, you're going to need to do your homework to make sure your investment is worthwhile. Again you will need to consider your objectives and target audience and find the shows that can offer you the platform for great return in investment.
Need more advice?
If your business is considering booking an exhibition, speak to Exhibit 3Sixty today! We have vast experience as an exhibition contractor and can take care of all aspects of an event, including the design, build, transportation and storage of your exhibition stand. Find out more about our services and get in touch for a free quote! Give us a call on 02476 473 633 or email [email protected]
Back to List